04 Sep 2010 5 Comments
by marielin Art
There are many kinds of russian traditional art, but I told only about those, which take up residence not far from the city of Moscow. For example, Gzhel, Fedoskino, Zhostovo and art more far town Nizhni Novgorod named Khokhloma.
Gzhel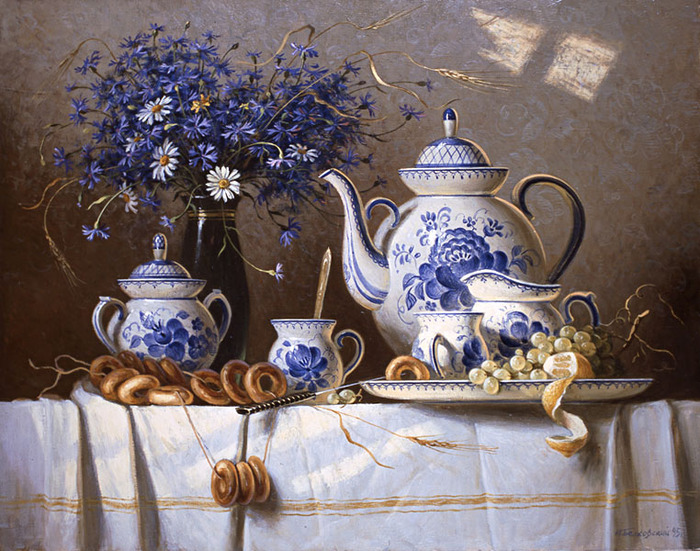 About thirty villages located southeast of Moscow produce pottery and ship it throughout Russia. The name Gzhel became associated with pottery in the 14th century. Gzhel pottery was originally created by potters in their homes, however fairly early on these potters started to organize into workshops to increase production. The workshops eventually became a factory with pieces being formed in moulds and potters being responsible for separate pieces, a specific style, or decoration. The earliest pieces were created of earthenware. The pottery was painted solid white with distinctive blue designs. Pottery was also produced using a tin based white glaze and coloured glaze designs in blue, green, yellow, and brown, rather than just blue on a white background, in a style that is referred to as majolica. The range of Gzhel majolica included virtually the entire assortment of domestic utensils, such as breakfast and soup plates, dinner-services, mugs, tankards, and pitchers. More often that was only white-glazed earthenware devoid of decoration; however it was prized precisely because of its hygienic whiteness. Yet, there has always been – and will always be – a popular demand for attractive, colourful, artistic objects. Every potter worthy of the name sought to create something individual, having some curious or amusing detail and a colourful design appealing to the customer.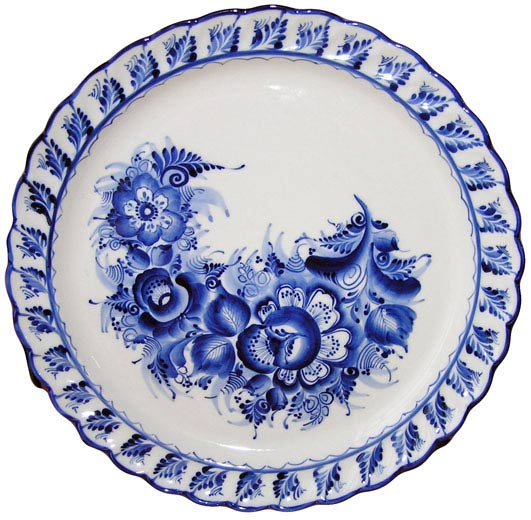 S.Isaev  "Marvellous Wale"
S.Isaev  "Salmon"
V.Petrov. "Masha". Salad dish
S.Isaev. "Russian Winter".
The chess.
Sources
More examples
There I show not traditional application this style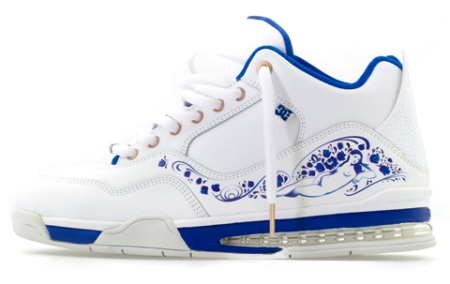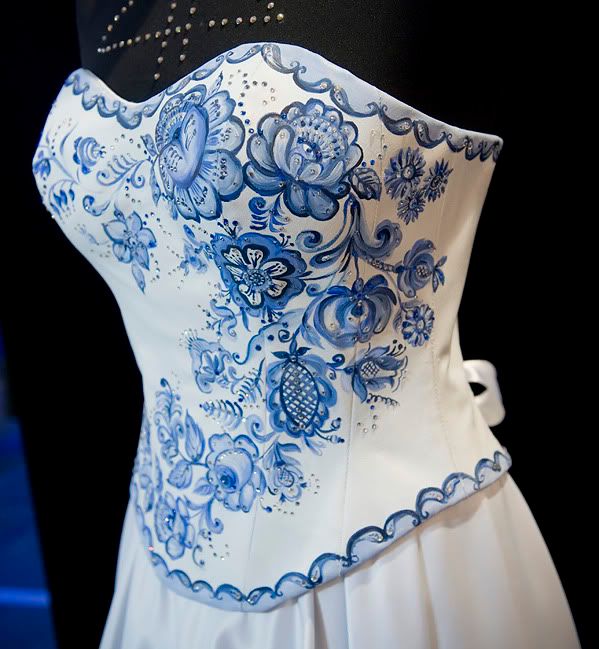 Fedoskino
The village of Fedoskino, situated 40km north of Moscow on the picturesque banks of the Ucha River, is Russia's oldest centre of lacquer miniature painting. At least half of the inhabitants of this village and the neighboring ones are in one way or another connected with the traditional craft. The secrets of making and painting papier-mache lacquers have for 200 years now been passed from one generation to another. The French word "papier-mache" (literally "chewed paper") is well-rooted in the Russian language. Several layers of pasted cardboard, boiled in linseed oil and then repeatedly dried in a hot oven, form an original material – hard as wood, light and waterproof – that can be sawed, polished, primed and lacquered. In the 18lh through the 19lh century papier-mache was widely used to make sundry items from peaks for the Russian army headdress to trays, tables and even chandeliers. Needless to say, all sorts of papier-mache caskets and boxes used to store matches, stamps, cards, glasses and above all snuff were immensely popular.
Most of the Fedoskino papier-mache wares have a black background on Ihe outside and are covered inside with scarlet, bright-red or cherry-colored lacquer. Papier-mache lacquers of the Moscow region were closely linked to Russia's graphic art of that period. Miniature artists mastered and copied drawings, engravings, cheap folk prints and lithographs which were sold in separate sheets and albums. Quite a few works have now been identified as prototypes of miniature compositions used in lacquers of the Moscow region. The theme of troika-riding was most widespread in 19th century miniatures. A troika rushing through the snow-laden forest and sledge riders are to this day a popular theme that has become an emblem of the craft.
N.Pankratov. "Snowdrops"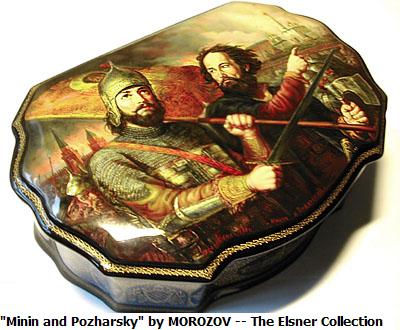 Sources
Zhostovo
The village of Zhostovo outside Moscow has become a symbol of unique folk art. For more than 150 years now many of its inhabitants have been developing the skill of decorating but one thing, trays. Their skillful hands have turned this household utensil into a work of art. Bouquets or garden and field flowers strewn against the black background adorn these trays, giving people joie-de-vivre and awakening admiration over the beauty and diversity of nature. Every human being shares these feelings, and therefore few people remain indifferent to the Zhostovo craft, which has long become world famous. Zhostovo wares belong to the family of Russian lacquers, whose history goes back to the emergence of miniature lacquer painting on papier-mache in the village  near Fedoskino in the Moscow Region, in the late 18th century. Subsequent development of the Zhostovo painting handicraft was stylistically related to porcelain and enamel painting techniques, used by factories near Moscow, flower motifs on printed cotton, produced by the Ivanovo factories, and Lukutin miniature (Fedoskino). Zhostovo painting is a handicraft of painting on metal trays, preliminary coated with a few layers of priming (putty) and oil varnish (usually, black). Painting is done in a few consecutive energetic and firm strokes with a soft brush and oil paints, richly diluted with linseed oil. The most widely used motif of the Zhostovo painting is a bunch of mixed garden and wild flowers, which is simple and laconic in its essence. The edges of a tray are painted with a light golden ornament . A finished tray is then covered with three layers of light lacquer and polished to brilliance.
Sources
More examples
Khokhloma
The North of the Nizhni Novgorod province is a bountiful land. The lush green of the flood plain meadows stretches along the low left bank of the Volga bordered with boundless dense forests. Villages and small hamlets are hiding in the forests or lurking near the streams. The lands beyond the Volga made a major contribution to the Russian history; it is a country of many legends. This is the land that was ravaged by the invading Mongol hordes of Batu Khan passing through it on their conquest of Europe more than seven centuries back. This is where the lake Svetloyar is whose clear waters are still preserving the legendary town of Kitezh the citizens of which refused to surrender to the evil force and were redeemed by the Providence as the town was hidden on the bottom of the lake. The folk arts and folklore flourished in the Trans-Volga area of the Nizhni Novgorod province. No other territory in Russia could equal it in the number and originality of the folk arts and crafts that had sprang to life and were developed in the local communities. The Khokhloma painting on wooden articles is, perhaps, the one type of Nizhni Novgorod folk craft that became most popular in Russia and foreign countries.
The Khokhloma handicraft became known as early as the 18th century. For instance, the geographer Evdokim Zyablovsky wrote after his journey to the Nizhni Novgorod province in 1790s that the inhabitants of the Trans-Volga area complained about the lack of arable land. He noted, though, that they had mastered many wood-working skills. He wrote, "Local woodland is another source of community welfare. The abundance of wood allows some villagers to manufacture by turning various dishes, cups, plates, and other similar wooden articles", which are then "varnished and decorated all over with golden ornaments and bright flowery patterns". The geographer concluded, "The articles are light in weight, solid, and well proportioned and the black and yellow varnishes they brew from the linseed oil are very strong and clear".
T.Beliantseva  Vase "Swan"

Sources
More examples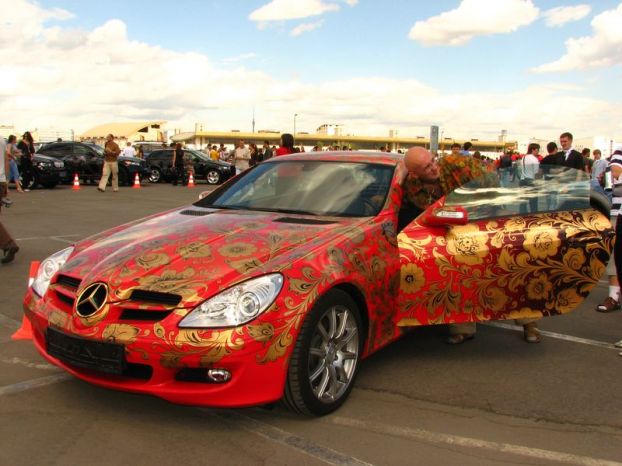 All folk art
To this end
---
About the author
Hello, everyone! I'm Maria Sizova, a 22 year old designer from Zhostovo near Moscow, Russia. I'm designer and blogger. For more cool stuff, you may also follow me on Twitter. Check out on deviantart.
---